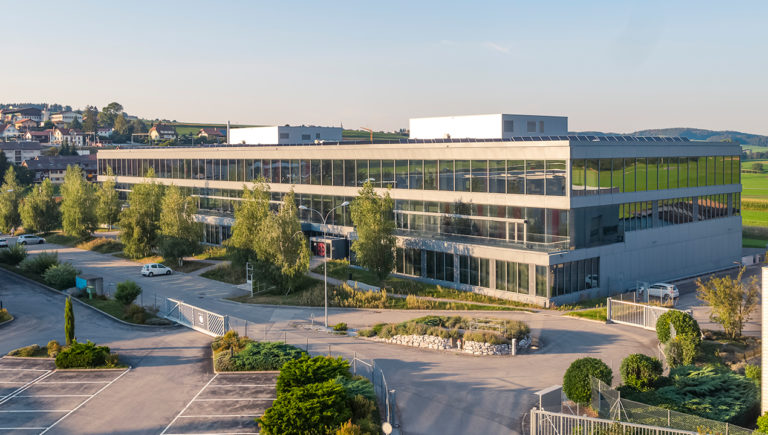 Swiss hub for industrial engineering and innovation
Le Vivier Technology Park is home to Swiss and international post PoC startups and companies that develop the latest engineering technologies for key industry players. We offer entrepreneurs flexible solutions, spacious offices, and functional workshops. Our unique ecosystem of like-minded entrepreneurs creates an environment where people and businesses thrive.
Infrastructure
& Services
Services
Included as part of the rental agreement
Reception
Central reception desk
Welcoming visitors
Handling of incoming and outgoing mail
Handling incoming telephone calls
Concierge
Building maintenance
Cleaning service
Waste management
Small repairs
Connectivity
Optic fiber internet connection
Computer cabling
Public WiFi
Building
Car parking
Parking for motorcycles and bikes
Electric car charging station
Toilets / cloak room / showers 24/7 access
Meeting rooms upon reservation
Air cooling system
Security
Security cameras
Burglar alarm
Fire detection
Defibrillator
Your event @Le Vivier
This service is availble to residents and non-residents
Host your business event at le Vivier
The Auditorium
80-seat conference room
2 private salons for up to 8 people
Restaurant & catering service
---
Designed by
entrepreneurs, for
entrepreneurs
A hub for industrial engineering
and innovation
Le Vivier offers individual offices, large openplan office space, and production workshops for light and heavyweight industrial machinery and devices.
This technology park distinguishes itself by its functional and elegant design, natural daylight, high-quality finishes, and its feel-good atmosphere. Brainchild of Swiss entrepreneur Christophe Fragniere, le Vivier demonstrates in every aspect that it was purpose-built for entrepreneurs.
We understand the fluctuating motions of expansion and downsizing of the companies we host. That's why we operate Le Vivier with a Tetris-like mindset, offering entrepreneurs the flexible infrastructure they need. We don't believe in a one-solution-fits all and build a personal relationship with each of our residents.
Multiple services are included as an integral part of your rental agreement, such as a central reception, professionally equipped meeting rooms, parking facilities, and an on-site restaurant.
A place where
innovative minds
meet
A shared passion for industrial
engineering and innovation
Our resident companies are a mix of post PoC startups and established successful enterprises, some with operations on a global scale.
Le Vivier hosts companies that develop innovative technologies and produce parts, devices, or machines for key industry players in different domains ranging from the automotive, watchmaking or aerospace industry, to the life sciences and pharmaceutical sectors.
Active in various domains, our residents have one thing in common: the ambition to help shape and lead the next generation of industrial engineering.
This concentration of innovative like-minded entrepreneurs at Le Vivier, creates a unique ecosystem, one in which you can find synergies, boost innovation, and build a successful enterprise.
An environment
where people and
businesses thrive
An ideal setting for innovators
in industrial engineering
Le Vivier is set in the Swiss Fribourg countryside, a region that offers excellent quality of life with its well-preserved natural sites, outdoor activities, affordable housing, and great schools.
Our Technology Park is easy to access and located within a 1-hour radius of the most renowned engineering universities and centers for industrial research, both known as breeding grounds for highly skilled professionals.
Our residents can profit from interesting economic advantages through the Fribourg Development Agency that actively supports the creation and expansion of companies with an array of financial support mechanisms.
Committed to the cause of CO2 reduction and preserving our planet, we produce part of our energy by solar panels and have installed a flower meadow to protect and conserve indigenous fauna and flora.
With this ideal mix of personal and professional advantages, Le Vivier is a place where people and businesses thrive.